On the day the film Miami Vice open's in the UK it appears the US are eyeing one of the locations used – the border area between Brazil, Paraguay and Argentina – for terrorist activity.
Sounds implausible? Read on brother (thanks to Shaun at UPI):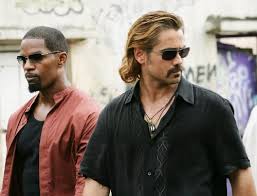 As the conflict in Lebanon intensifies, U.S.officials are weighing the consequences of a possible strategic shift by the Islamic extremist group Hezbollah.

U.S. officials tell United Press International that intelligence
assessments indicate the group's strategic posture up till now appears
designed to avoid direct confrontation with the United States.

But "whenever there's an up-tick in tension (in the Middle East) there's
a concern that the posture could change," said one U.S. intelligence
official authorized to speak with the media. At that point, said the
official, attention switches to trying to work out what capabilities the
group might have. "Capacity is what is interesting people at the
moment."

Rep. Ed Royce, R-Calif., chairman of the House subcommittee on terrorism and non-proliferation, told UPI he is concerned Hezbollah might be positioning itself for an attack against the United States.

We're seeing a pattern of activities on the border and elsewhere," he
said, indicating "a renewed operational focus by Hezbollah on getting
their people in over the border, between the ports of entry," because
that way, U.S. authorities will not know they are in the country.

Royce said there was a rise in the number of ethnic Lebanese with
Brazilian nationality apprehended at the border. "We're seeing a pattern
of (Hezbollah) operatives" from Latin American countries "attempting to come into the United States," he said.

The tri-border region of South America, where the frontiers of Brazil,
Paraguay and Argentina all meet, has a large Lebanese-origin population
and has long been identified by some in U.S. intelligence as a hotspot
for Hezbollah activities

Royce referenced recent statements from militants linked to Hezbollah in Iran that said they had the capability to stage suicide attacks against
U.S interests around the world.

"We know that there are Hezbollah people here," he said, adding that as
many as 300 "individuals doing work for Hezbollah" had been apprehended — arrested or convicted — "over the years." He said they were involved in fundraising or other logistical support operations for the group.

"The question is, could these types of cells be given the green light"
to commit terrorist attacks within the United States?

Under these circumstances, he said "it would behoove the United States
to get some measure of control of the border."
I'm off for dinner with a couple of Brazilian law officials (who also just happen to be Shirley's uncle & aunt) this evening to get their views.
At least it might distract them from interrogating me..