This partnership between Facebook and PayPal sounds interesting..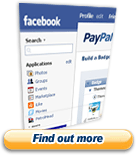 Build a badge so your friends can help support a cause of your choice. It couldn't be easier to request money or get your friends to donate.
Plus PayPal and Facebook have teamed up to provide an option to send money to your mates. You can now avoid those awkward conversations where you have to remind your friends that they owe you.